Custom Quilts and Projects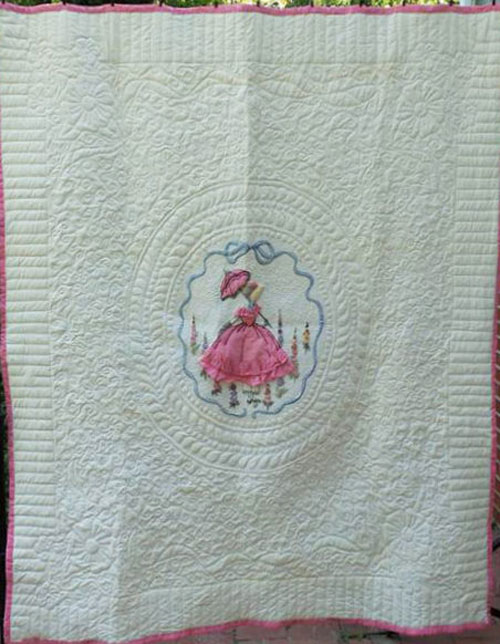 Do you have something special or sentimental to you?
Are you looking for something that is uniquely yours?
First shown is a custom QUILT, then custom Projects.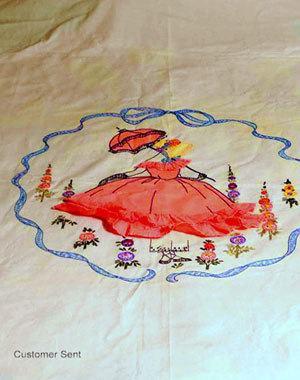 Custom "Dolly" Quilt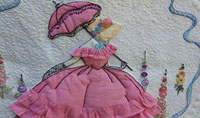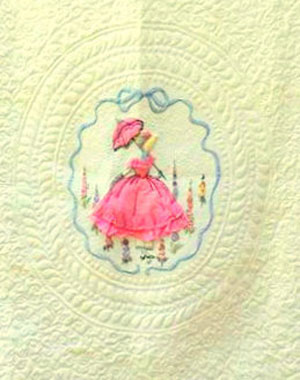 Custom Work is:
Custom work is designed and created exclusively for you. The material or fabric usually has special meaning to you from an event in your life or the life of those you love. It can be your idea or something you have seen and would like done in a way unique to you.
Send photos, sketches, and drawings of the ideas that you may have in mind. We will have a telephone consultation to be sure that I understand your desires for this custom project and I will be able to give you a price quote.
I can help in designing a quilt or project from the items you treasure. This could be clothing from a loved one, a quilt or project you started that needs to be finished, something your parent or grandparent had started and you found in the cedar chest or attic, baby clothing that you want to preserve, a T-Shirt collection and more.
Other custom services available:
Photo transfers to fabric, machine embroidery, appliqueing and machine quilting.
Custom Projects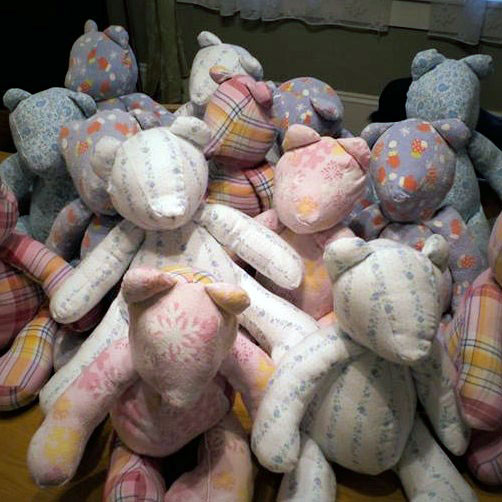 Teddy Bears*
This custom project order was made from Grandma's flannel pajamas for each of her grandchildren.
A great way to help the little ones remember Grandma!
These cute bears can be made from t-shirts, shirts, clothing, pajamas and more. Can you think of a unique custom project to remember someone special?
* Custom Orders Only $45.00 each
Memory Pillow * Custom Orders Only Price Quote Available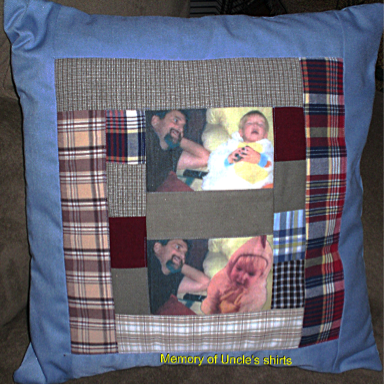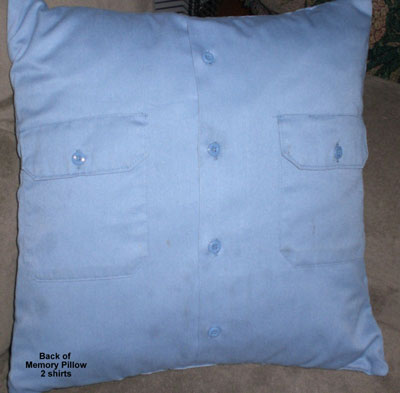 Custom Quilt and Project Ordering
Please call me so we can discuss the specific custom work you are interested in. I will be happy to schedule a telephone consultation or video chat so I have a better understanding of your needs. Please feel free send me photos, sketches, or drawings of the ideas you have in mind.
I can give you ideas and options on what can be done or created.
I will then know how I can help you and will be able to provide you with an estimated cost and timeline.
All custom QUILT orders require a $75.00 non-refundable deposit payable through PayPal at the time your order is placed.
All custom PROJECT orders require a "to be determined" non-refundable deposit payable through PayPal at the time your order is placed.
Items I will need
Items needed will be specific to each order.
Shipping Information
Pack your clean and labeled T-Shirts/garments/items in a vacuum pack storage bag (available at Dollar Stores). Vacuum out the air. This will reduce the size of the box you need.
Pack the vacuum bag in a sturdy box (I use Priority Boxes from USPS) and enclose a copy of your Order Form.
Securely tape the box closed and completely cover the Shipping and Return Address labels with clear packing tape to ensure the labels are firmly attached to the box and safe from exposure to wet weather during shipment.
Send to the address on the Order Form and ship via your choice of carrier. I use USPS. You are responsible for the payment of your package to me. Please purchase delivery confirmation and insurance so you can track your package.
The Next Step
When I receive your order I will email you a timeline and invoice showing your PayPal non-refundable deposit.
Once I have a preliminary layout you will be emailed photos and any questions I may have. I may call you. Please watch your email.
I will need a design approval before I proceed with your order.
I will email photos again when your project is finished along with a PayPal invoice for your final payment.
Once final payment is made your custom quilt or custom project will be shipped via USPS insured mail and your tracking number will be emailed to you.
Quick turn around time....7 to 8 weeks....possibly slightly longer during graduations (May-June) and the holiday season (November-December).


I look forward to working with you to create your custom quilt or project.
Click here to see more quilts in our custom quilt photo gallery.