T-Shirt Quilts
The Process...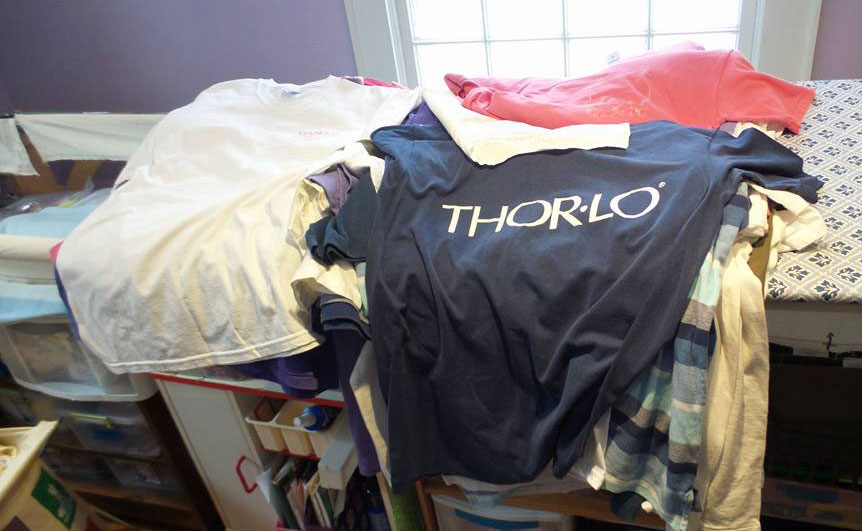 First choose your theme (sports, vacations, etc.) or a combination of items with sentimental value. Consider using team jerseys, tote bags or even pillowcases to incorporate into your one-of-a-kind design. Place your order, prepare the T-Shirts and ship to me!
Sit back and relax. Your T-Shirt Quilt will arrive soon!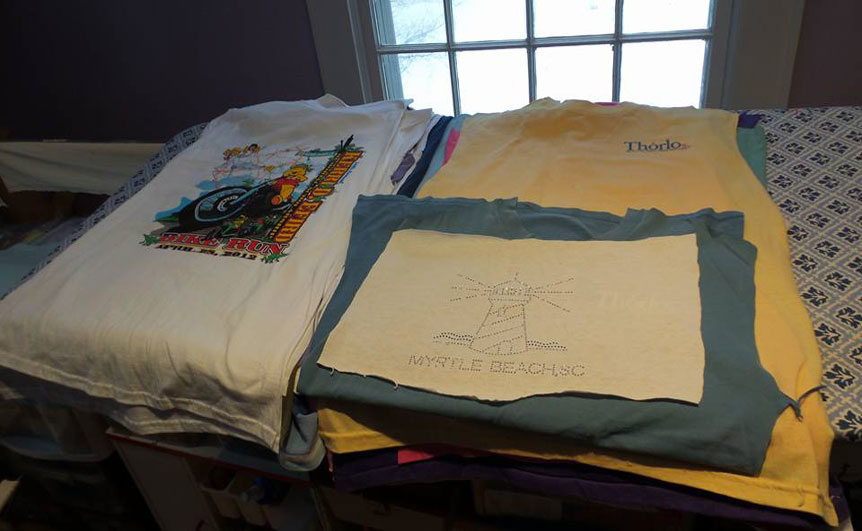 Every step of the process is essential to a beautiful and practical quilt that will last a lifetime!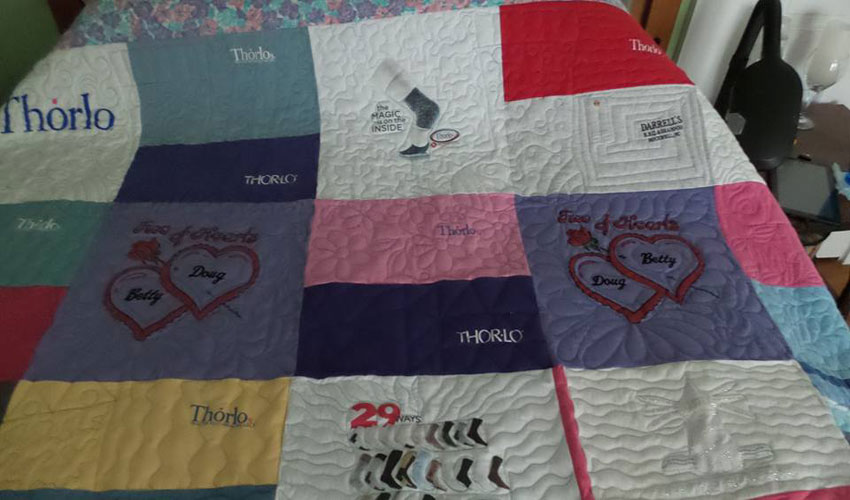 T-Shirt Quilt Ordering
T-Shirt Quilt Design and Size Guide
STYLES

Block
Layout
Quilt
Size
Block
Shirts Needed
Mosaic
Shirts Needed
3 x 3 layout (small lap)
56" x 56"
9
9 - 20
3 x 5 layout (lap)
56" x 92"
15
15 - 25
4 x 5 layout (large lap)
74" x 92"
20
20 - 40
5 x 5 layout (couch)
92" x 92"
25
25 - 50
4 x 6 layout (twin)
74" x 110"
24
24 - 45
5 x 6 layout (full/queen)
92" x 110"
30
30 - 50
6 x 6 layout (king)
110" x 110"
36
36 - 60
Easy to order, simply choose one of these styles:
Block Style: This style is the most popular T-Shirt Quilt design. You have a choice of sashing colors (sashing is the blue color around the T-Shirts blocks and the green print on the outside border in the Block Style photo below). Note: There is extra seaming work in three of the blocks in the middle vertical row.
Mosaic Style: This style is usually chosen when the parts of the T-Shirts you do want used in your quilt are different sizes. Example: Logos taken from the chest area, the sleeves, pant legs, bandana, extra large designs on a T-Shirt, etc. This style makes it possible to get the best design while using your T-Shirt logos without losing any of the logo design. It does require more seaming and labor and added cost.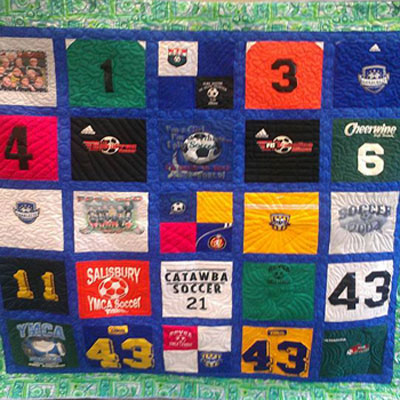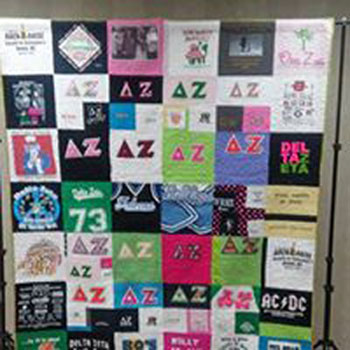 and then choose one of these: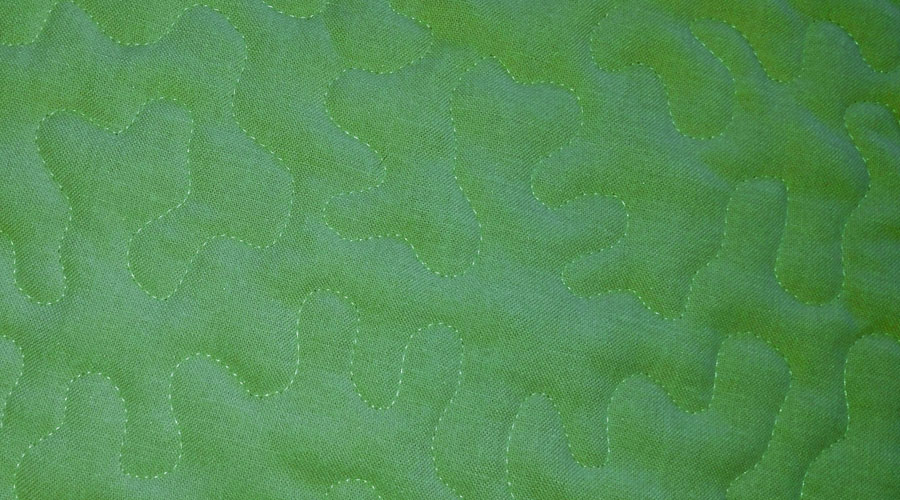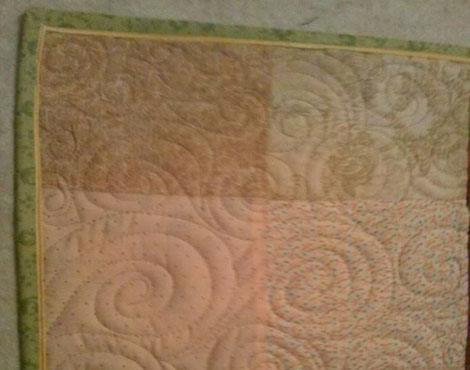 All quilt orders require a $75.00 non-refundable deposit through PayPal at the time your order is placed.
T-Shirt Selection and Preparation
Select your T-Shirts. The front and/or back of T-Shirts may be used. The logo on the front or back, sleeves, chest pockets, pant legs, sports towels, bandanna, uniforms, (seaming may be needed to make correct block size), even flannel can be used. It's your quilt so be creative!

Both sides of the T-Shirt may be used if you desire. Using both sides (front and back) of a T-Shirt would be considered the equivalent of two (2) T-Shirts.

The T-Shirts should be UNCUT. If the T-Shirts are already cut I may use them but additional labor and charges will be incurred ($5.00 per cut T-Shirt).

T-Shirts and other items need to be laundered in the washer with 2 cups white vinegar in HOT WATER on a normal cycle to remove any fabric softener build-up on T-Shirts. Dry in the dryer WITHOUT ANY FABRIC SOFTENER OR DRYER SHEETS. This process allows the interfacing to adhere to the T-Shirts properly.

T-Shirts must be clean. This includes T-Shirts with body odor, mildew, moth balls or animal hair. (A laundering fee of $50.00 will apply if your T-Shirts need to be laundered when I receive them).

Please use a small piece of masking tape or blue painter's tape to mark any special instructions such as special placement of a T-Shirt, etc.

Please place a piece of tape on the side(s) and part(s) of the T-shirt you want to be used in your design.

If there is something you DO NOT want to be used please be sure to mark that as well.

Please number your shirts in the order of its importance in your quilt as this will be important when I design your quilt.

I suggest you send a few extra T-Shirts in case an extra piece is needed for your design. Please mark them as extras. If the extra T-Shirts are not cut and used, the extra shirts will be returned with the finished quilt. All cut and unused T-Shirt parts will be recycled for painter rags.

Up to 2 blocks of combining logos or irregular pieces, V neck T-Shirts or seaming to make the correct block size are included in each quilt. Additional seaming charges are $5.00 per block. Up to two (2) appliques (patches) are included with each quilt. Additional appliques are $5.00 each.
Shipping Information
Pack your clean and labeled T-Shirts/garments/items in a vacuum pack storage bag (available at Dollar Stores). Vacuum out the air. This will reduce the size of the box you need.
Pack the vacuum bag in a sturdy box (I use Priority Boxes from USPS) and enclose a copy of your Order Form.
Securely tape the box closed and completely cover the Shipping and Return Address labels with clear packing tape to ensure the labels are firmly attached to the box and safe from exposure to wet weather during shipment.
Send the package to the address on the Order Form and ship via your choice of carrier. I use USPS. You are responsible for the payment of your package to me. Please purchase delivery confirmation and insurance so you can track your package.
The Next Step
When I receive your shipment I will email you a timeline for your T-Shirt Quilt along with a PayPal invoice showing your paid $75.00 non-refundable deposit.
Once I have a preliminary design of your quilt you will be emailed photos and any questions I may have. I may also call you. Please watch your email.
I need design approval before I proceed with your order.
I will email photos again when your quilt is finished along with a PayPal invoice for your final payment.
When I receive final payment your quilt will be shipped via USPS insured mail and your tracking number will be emailed to you.
Quick turn around time....4 to 6 weeks....possibly slightly longer during graduations (May-June) and the holiday season (November-December).
I look forward to working with you to create-your-one-of-kind T-Shirt quilt.
T-Shirt Quilt Price Guide
BLOCK STYLE
MOSAIC STYLE
Approx.
Finished
Size
Required # of
Medium & Larger
T-Shirts
Price
Required # of
Medium & Larger
T-Shirts
Price
56" x 56"
9
$180.00
9 - 20
$325.00
56" x 92"
15
$300.00
15 - 25
$450.00
74" x 92"
20
$400.00
20 - 40
$600.00
92" x 92"
25
$500.00
25 - 50
$840.00
74" x 110"
24
$560.00
24 - 45
$840.00
92" x 110"
30
$600.00
30 - 50
$840.00
110" x 110"
36
$720.00
36 - 60
$950.00